ExxonMobil

Joliet

Refinery.com

Learn About Our Joliet Refinery.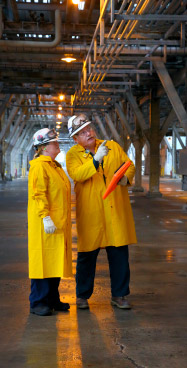 The Joliet Refinery opened in 1972 and is the second newest refinery in the United States. The Joliet Refinery ranks first in the U.S. on the Energy Intensity Index (EII), a measure of energy efficiency in the oil industry.
The Joliet Refinery Corporate Citizenship:
Joliet Refinery employees have volunteered thousands of hours and contributed hundreds of thousands of dollars to dozens of local non-profit organizations through VIP grants, which are awarded by ExxonMobil to organizations where employees perform volunteer work.
The ExxonMobil Joliet Refinery is consistently the second highest contributor to the United Way of Will County.


Materials produced: diesel, gasoline, coke, sulfur, propylene, asphalt
Daily production: 248,000 barrels
Employees: 650
Embedded contractors: 300
Contractor unions represented: Electrical, Pipe Fitters, Operating Engineers, Carpenters, Iron Workers, Insulators, and Boilermakers